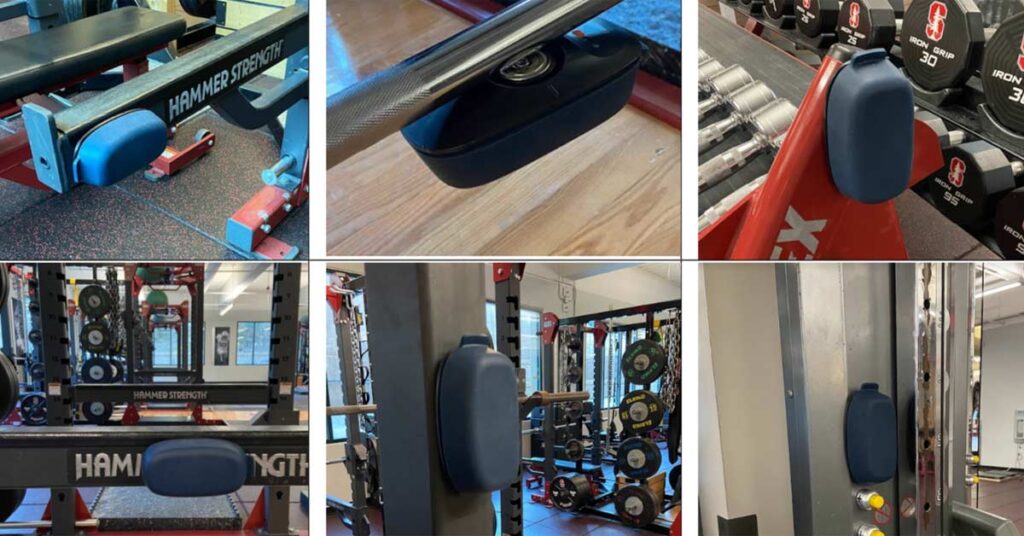 The handheld dynamometer (HHD) market has exploded as strength coaches and rehab professionals have adapted the evidence from taking objective measurements to use for the monitoring and safe return to sport. Not only have sales of classic dynamometers such as the MicroFET and Lafyette HHD increased, but newly developed app-based dynamometers have emerged (figure 1 below). One of the new arrivals is Kinvent's K-Push.
Kinvent sells a separate K-Pull pull-type dynamometer, and readers should also check out this article to determine what HHD to purchase. This particular review only focuses on the K-Push.
Technical Specifications
Push dynamometers generally have less load capacity than pull dynamometers, and the K-Push is advertised with a 90-kilogram load capacity. However, its true load capacity is 135 kilograms, and users can feel confident consistently hitting that threshold. This makes it ideal for testing the common muscle groups, such as the hip complex, hamstrings, shoulders, quadriceps, and neck.
Rate of force development (RFD) at different time points has been a metric that users increasingly want, but accurate RFD requires a high sampling rate. The device is the top in the market with 1,000 Hz, which is recommended for RFD testing. This means the device records 1,000 data points per second.
The K-Push's advertised sampling rate is 250 Hz, and the default is set at 125 Hz in-app, but users can go into the app to select the 1,000 Hz option if they want to acquire more accurate RFD metrics.
Click To Tweet
The K-Push's advertised sampling rate is 250 Hz, and the default sampling rate is set at 125 Hz in-app, but users can go into the app to select the 1,000 Hz option if they want to begin acquiring more accurate RFD metrics. The engineers state that the sensors can handle up to 2,000 Hz, but at this time, the settings only allow it to be set to 1,000 Hz. As a reference, gold-standard isokinetic dynamometers, such as the HUMAC Norm, have sampling rates up to 2,500 Hz.1
As with many of Kinvent's products, the K-Push's battery life is very impressive, and its charge time remains short. With multiple uses per work hour, the tested device only required charging twice over the four months I used it. It also utilizes USB type C to charge, which is convenient since that is what charges most devices nowadays—no excessive cords around the office/desk. Connectivity issues have been reported in Kinvent's smaller K-Force force plates; however, those issues are not present with the K-Push. The device quickly synced every time within seconds.
Hardware
The entire hardware and design have received updates from its second-generation iteration. The silicon pad is robust, flexible, and comfortable, whereas the generation 2 pad was flimsy and connected by weak magnets (figure 2). The cover has resisted drops, punctures, and any kind of damage over heavy usage (and a few drops—whoops!).
The most welcome change is the addition of a strong magnet on the back. Gone is a slide-and-click attachment system, replaced by a magnet that mounts to useful attachments such as handles, straps, clamps, and anything metal (figure 3). This makes standardizing and choosing good fixation easy and accessible (figure 4).
The addition of a strong magnet on the back is easily the best feature of the Kinvent K-Push, as fixation is often challenging yet so important for accuracy and reliability, says @MuyVienDPT.
Click To Tweet
The magnet itself is strong. It took 20 pounds of force before I pulled it off. (Yes, I tested it five times with a pull dynamometer.) This is easily the best feature of the device, as fixation is often challenging yet so important in accuracy and reliability.
Lastly, the rigid button has been replaced with a rubberized one. Although it lacks the tactile stiffness of the generation 2 K-Push, it is more responsive than the buttons on other Kinvent gen 3 devices.
There is now also a "button start" feature: once the test is set up, users do not need to push "Start" on the app but can just press the button on the device to begin the test. This change was made to save users time, but it doesn't improve user experience as it just avoids one extra button push. Additionally, the button push function does not also work as a "Next" function: this would be an extremely useful add when clinicians are going through protocols of bundle tests. It's a great idea but not fully utilized, given where the software is currently.
Overall, the generation 2 K-Push was impressive and great to use, and the engineers somehow improved the hardware even more.
The Software
A short time before the generation 3 release, Kinvent released the K-Physio app and discontinued support for their K-Force app. The K-Physio app is a significant upgrade, and it's what all users will want. This K-Physio app now gives users access to a lot more data, such as RFD, impulse, and fatigue (figure 6).
The visualization is great and defaults with peak force symmetry as the main metric displayed. It also gives you the average peak force of each rep as you scroll farther, but it does not give you the average of the three. Some people may want the average symmetry, but I think peak force among all reps is the way to go. Users can also delete the reps they do not want to keep. Lastly, a recent update now publishes normative data with standard deviations for popular tests.
Not only can users make any test they want with their own custom picture and description, but they can also build their own protocols, says @MuyVienDPT.
Click To Tweet
Another great feature of the software is its customization. Not only can users make any test they want with their own custom picture and description, but they can also build their own protocols. For example, users can string together eight different hip tests to efficiently analyze the hip complex without manually selecting each test separately. This saves an incredible amount of time, especially when the actual tester memorizes the sequence. For the pre-programmed assortment of tests, you can customize many settings, such as the number of reps, length of tests, and prep time between reps. The number of limbs can also be customized (figure 5).
PDF reports can be customized and generated on the app, which can then be directly emailed to patients and stakeholders.
As I mentioned in other reviews, Kinvent has a desktop platform—however, it is lacking (figure 7). Users who access their data on their desktop computer will miss out on 90% of the mobile app's functionality. Among the missing features on the desktop app at the time of this review are the ability to:
Delete test sessions.
Edit users.
See advanced metrics (for jumps).
Customize reports.
Make/sort groups.
Administer a test (the most important one).
The desktop app does not pick up or allow you to enter the demographic info of participants. For rehab specialists who need to document and multi-task on their laptop, this hinders their daily operations.
As usual, Kinvent's training modes are what makes their software great. These are really simple games that include Karl the Kangaroo scuba, catching fruit, and playing bubble blaster (see figure 8). As the level gets more challenging, users have to use more force and power to accomplish their goal. There's also more feedback-driven training, such as isometric training that users can precisely set for 1RM-based force (figure 8).
Most people who only have the dynamometer will do well with the $350 starter package (tables 1 and 2), but those who also have the Kinvent force plate should upgrade to the Premium or Excellence packages.
Overall Score
Score: 9.5/10
Kinvent K-Push is the best handheld dynamometer on the market, with a slick mobile app and top-of-the-line technical specs. The build quality, easy fixation, customizability, battery, training modes, and visualizations will make people want to use it often for testing and as an intervention. If an updated desktop application comes out, consider this a 10/10.
Since you're here…
…we have a small favor to ask. More people are reading SimpliFaster than ever, and each week we bring you compelling content from coaches, sport scientists, and physiotherapists who are devoted to building better athletes. Please take a moment to share the articles on social media, engage the authors with questions and comments below, and link to articles when appropriate if you have a blog or participate on forums of related topics. — SF
References
1. Maffiuletti NA, Aagaard P, Blazevich AJ, Folland J, Tillin N, and Duchateau J. "Rate of force development: physiological and methodological considerations." European Journal of Applied Physiology. 2016 Jun;116(6):1091–116. doi: 10.1007/s00421-016-3346-6. Epub 2016 Mar 3. PMID: 26941023; PMCID: PMC4875063.