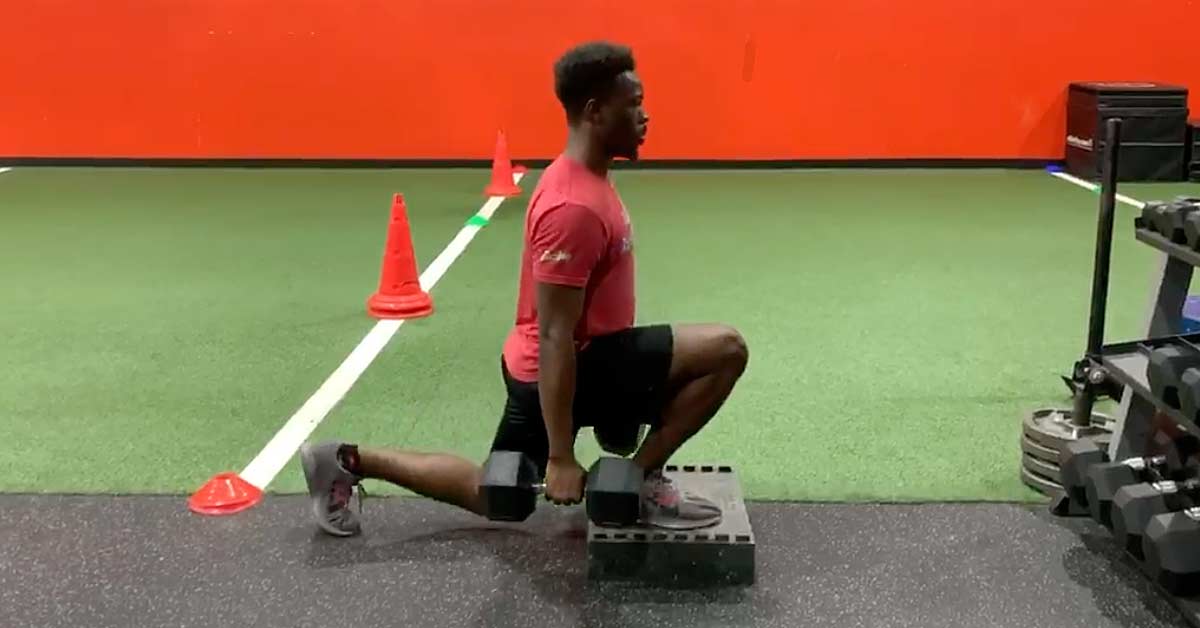 I have always been a fan of reverse lunges and have experimented with platforms, but now there is overwhelming evidence that we need to make deficit reverse lunges a staple in training. Reverse lunges from a deficit, utilizing dumbbells or other overload tools, are great for knees and help improve mobility with athletes. While the exercise is not new, better science and practice of the movement are.
Reverse lunges from a deficit, utilizing dumbbells or other overload tools, are great for knees and help improve mobility with athletes, says @spikesonly.
Click To Tweet
In this article, I tackle more than just why the exercise matters and how to do it—I put it head to head with similar exercises and make a case for placing it on a pedestal. If you like the deficit reverse lunge now, you will love it after reading this article. If you are familiar with the exercise but not sold on it, I know you will rethink the value of this simple but effective weight room exercise.
A Quick Note Before Diving In
This article has no agenda outside of making a compelling case for the movement. Since most of the loading will come from conventional dumbbells or barbells, it's safe to say that equipment manufacturers are not behind closed doors, pushing an agenda with this article. I wrote outlines of split squats and lunges last year, and philosophically, I feel the combination of single leg training and bilateral exercises is the best way to train. Being agnostic to style and caring only about what's best for the athlete isn't a popular path, but if you do your homework, you will always see a bias behind nearly every exercise. Reverse lunges are not glamorous or competitive options to win medals, like Olympic lifting or powerlifting, but they are fantastic.


The muse for this article was Alan Bishop, who is one of those craftsmen that simply let their work speak for itself. His inclusion of the exercise and promotion of the movement to build better athletes was so convincing that I put more effort into implementing it this past year. With a more specific plan for utilizing the movement, I got far more than I expected.
Important Differences Between Split Squats and Lunges
One of the reasons I think we overlook lunges is that most of the time coaches use the lunge as an ancillary lift instead of making it a primary exercise. It seems that people only start to think more deeply about the movement when the load becomes high. Split squats are bilateral exercises, and lunges are as well, but only for a moment. The difference between lunges and squats is simply how many feet are on the ground and when.
Lunges usually fail due to volume fatigue rather than from being too heavy for low-repetition work, as 1RM tests for lunges are rare, says @spikesonly.
Click To Tweet
Single-leg-supported exercises are different than lunges, and lunges are, of course, different than split squats and other two-legged squats. This is important because many coaches (wisely) fear what can go wrong, and that's the first point I will cover. Lunges usually fail due to volume fatigue rather than from being too heavy for low-repetition work, as one repetition maximum tests for lunges are rare. I think most coaches know this, but it's important when the weight becomes heavy enough to consider it a primary strength exercise. Many coaches will be fine programming single leg variants as an accessory lift, but when it becomes the main course, then it seems the arguments begin.

Video 1. Maximal range or near maximal range work helps sustain mobility, but to improve range you need to incorporate other variations. Use pause and weight shifts to maximize mobility.
I have yet to see a lot of videos of split squats and lunges failing with a barbell, so most of this will be about conventional squats and racks. Adding a barbell to the back does increase risk, but what is the plausibility that someone will collapse under the weight? What loads are risky and what is just normal?
Coaches often use dumbbell and other resistance modes because the momentum and balance requirements are higher than for stationary leg lifts. Therefore, when the loads become enough that a rack is needed, coaches should make sure they also consider the height of the step, as that becomes a challenge. Does a coach set the safety pins higher to prevent an accident or slightly lower for failing deep in the hole?
As the box becomes higher, I just recommend dumbbells and work range and reps; as the box becomes barely elevated, load is the variable of choice. It's not rocket science, but the grey area is when the load is heavy and the deficit high enough that switching from dumbbells to a barbell is a coin flip. I'd rather be overcautious and go conservatively and use a rack than go too heavy and play with fire.
Bilateral deficit, muscle activation, correlation with speed, and jumping ability—all of that matters and is indeed important, but safety and practical considerations are paramount. Safely loading an athlete to near maximal efforts is the name of the game with progressive overload. Transfer to the field and various qualities are important, but we need to think about general qualities as they complement specificity.
So it doesn't lead to overuse syndromes or imbalances from unnecessary redundancy, we can't just oversimplify the process of single leg exercises. Lunges add a small degree of complexity, but let's be honest, it's taking a step back each rep versus getting into the position at the beginning of the set. True, at maximal loads you have to think about the details, but excessive stressing is also unnecessary.
The Science and Logic of Reverse Lunges and Deficits
There's some bad news for those wanting a comprehensive scientific review of reverse lunges—you won't find much. Add in deficit-style reverse lunges and you basically have nothing. One of the reasons I wrote this article was to help guide future science and use a little bit of reasoning to connect existing science. Since reverse lunges are a subset of the lunge pattern, I did some reading on lunges in general and focused on the reverse movement.
The only difference with conventional step-ups and reverse lunges is the commonly followed sequence of events, stepping up first rather than stepping back and down.
Click To Tweet
As for the deficit, I already got the process started with the step-up article, as the movement does have some connection to the high box leg exercise. The only difference with conventional step-ups and reverse lunges is the commonly followed sequence of events, stepping up first rather than stepping back and down. Those differences are the reason deficit-style reverse lunges are usually lighter in load, but it all depends on the skill of the lifter, the coaching program, and of course, the load and elevation. Having the front foot elevated allows for greater depth as the ground is now less of an interference, but we can't give any exercise the benefit of the doubt because it is on one leg.
Medically speaking, coaches are more concerned than ever about hip and spine injuries from lower body lifts. I get that, but we also need to be concerned about coaching ability as a reason for injuries and not necessarily the exercises. If done properly, exercises that are safe should be cleared for use. Just because there is a chance they can be dangerous is not good enough anymore, as not exposing an athlete to risk that may be present during competition and practice is just as negligent.
When the medical model oversteps its bounds (pardon the pun), we have problems with athletes getting hurt later in the game. Even many negligent and poorly designed programs are still less dangerous than playing sports, on average, so we can't be scared by the weight room injury bogeyman.
Conversely, if you are worried about the spine and labrums of the hip with deep squatting, don't neglect single leg deep split squatting and lunging either. While the load may be a portion of the conventional barbell squat, you add different dimensions as well. I recommend using the same depth as a bilateral squat, but some extra range shouldn't be an issue if the load is mild. Single leg squats, specifically pistols, may not have the same external load as a barbell squat, but they need to follow the same rules generally for both learning to control the pelvis and respecting the anatomy of the athlete.

Video 2. Typical reverse lunges with moderate loads are knee friendly and popular with coaches. Adding a low box encourages control and technique changes common with all lunges.
The first thing people ask about the reverse lunge is the knee benefits, as it tends to be revered as more friendly to the joints of the leg. Reverse lunges, especially with a deficit, can challenge the ankle joint, depending on the descent and style of the movement. Even if the knee passes the toes, the dynamics of the exercise are still far more tolerant than walking lunges or forward lunges, especially the deceleration speed-style front lunges. Also, the exercise starts with a descent or eccentric contraction, theoretically making it a good exercise in the long run.
Even if the knee passes the toes, the dynamics of the deficit reverse lunge are still far more tolerant than walking lunges or forward lunges, says @spikesonly.
Click To Tweet
Athletes can be taught to use eccentric contractions during the step-down portion of the step-up, but reverse lunges really emphasize the descent far more naturally than step-ups, in my experience. It's not that hard to lower yourself, so excuses are more about coaching competence than the nature of the exercise. Heavy sled pushing has no real viable eccentric component, so using that exercise resembles pushing a load up a long staircase.
Muscle recruitment with electromyography and joint kinematics have some research to support the claim that they help the posterior chain, but the family of exercises should be seen as good leg exercises rather than a fix for hamstring pulls or groin injuries. It's not magic for ACL tears, nor will it reduce risks to other joint systems. The key takeaway with the science of the movement is that it does get hamstrings and glutes well, but it doesn't create a validated safeguard in the literature for injuries. What we can conclude is that the exercise has benefits for general leg strength and is likely easier on the patella, according to experts in rehabilitation biomechanics. Currently, I don't know of any research reviews on reverse lunges with a deficit, just reverse lunges and step-up exercises.
Teaching the Reverse Lunge with Athletes
Without overdosing the progressions, I will share some reasonable ways to get athletes comfortable moving toward more demanding variants of the reverse lunge and deficit reverse lunge. I am purposely not going to spend much time here, as we can overthink and then overcoach exercises that are very natural. I do think we need to focus on ways to make sure athletes do the lift properly, so here are a couple of points to consider.
The first is the lean and the second is the non-support leg. Usually, if both the posture and step back are done properly, the lift falls into place, so letting the athlete find their balance slowly and complete the step back is enough. Teaching the movement without load and without a deficit is a natural starting point, and if you can implement a reverse lunge cleanly without problems, adding dumbbells and a step makes sense. I am not a purist, but I prefer overloading the reverse lunge before adding height or a step. Later, as the athlete becomes more proficient, adding depth and speed is fine.


Some coaches regress too much and add way too many cues and adjustments to teach the movement. Doing so creates very rigid movers, so make sure they can control momentum but not limit it too much. Natural bouncing back is fine if the support leg is working during the exercise, and a force plate can teach us enough about how an athlete is able to manage the task.
Just seeing the rhythm of the descent and rise back up can be valuable, as the deficit reverse lunge is a strength movement and speed is usually not the goal, says @spikesonly.
Click To Tweet
You definitely don't need technology to know if the exercise looks good and is performing well, but it's good to see how the forces are mitigated with a few experiments so we can learn more about how athlete's problems respond to the movement. Just seeing the rhythm of the descent and rise back up can be valuable, as it's a strength movement and speed is usually not a goal of the exercise. VBT or power monitoring of the exercise is, in my opinion, overdoing it and getting to the point of measuring for the sake of measuring. Let's be honest, it's a lunge, so let's not make it seem like an obstacle to learn. Just put the effort in and don't allow an athlete to go through the motions.
How Much Deficit and Load to Prescribe with Athletes
I determine the amount of box height and load based mainly on my personal philosophy, but it's likely to be similar to that of many other coaches for obvious reasons. As the load increases, safety becomes more of a factor because the exercise risk increases. The key is that loads for deficit reverse lunges are less than split squats and the range of motion is lower than step-ups. Having that frame of reference is a good start.
Due to the free leg stretching back with variable distances, depth is usually how far the knee drops, with touching the floor as a sign of full range. The problem with knees touching is the speed of descent sometimes means an uncomfortable bounce, or the anatomy not matching up with the technique. Long striders can find themselves leaning too much or compensating the wrong way.
Now that we've completed all of the background work, let's jump into programming. With lunging, whether heavy or light, you really are just managing the strength program and becoming familiar with the exercise. If an athlete is skilled, they can usually add the exercise in with a few light sets without the tissue soreness later. Unskilled athletes usually need some time to literally synchronize muscle groups.
For convenience and simplicity, I organize the reverse lunge family into four categories. These progress in both elevation and load, and I base them on obvious needs such as structural balance and challenging various forms of leg strength. Here are the four sets of combinations of load and height, but keep in mind that other options exist.
Very Light Load, No Height
Regular full-range reverse lunges with a large step back are great for athletes who just need to get some work done with low risk and low technical demand. At times during the year, especially during the heavy periods of strength development or competition, athletes are not in the mood to add a step, as they are mentally tired as well. Some athletes just want to get the work done and leave, so I embrace their perspective. To me, a light load is 50% of body weight, as that is more about maintaining a training rhythm than a training effect, but it's far better than nothing. Most of the time, I go light and simple for beginner athletes who need to learn the movement.
Moderate Load, Full Range
A strong athlete should be able to hit body weight with a step-up near half the height of the tibia if they are really well trained. The main goal is that the hamstring and calf meet without posterior tilting of the pelvis to create excessive flexion of the spine. With moderate loads, the body is still at risk for problems if you go deeper than the anatomy allows. Keep in mind the athlete should be able to handle an eccentric step-up that's higher than the height of their deficit reverse lunge. I give about a 20% difference between the deficit reverse lunge and the step-up height, with the lunge always being significantly shorter.
Heavy Load, Partial Range
When the loads supersede body weight, the movement can be done with a barbell. Just to be sure, we are talking shorter than a Reebok step in regard to height with most athletes. You can go slightly higher with dumbbells, but the contributions of the rear legs become a little murky. Some coaches just go light and want the torso and rear leg angle to continue in a straight line. I just care that the leg is active and the balance is solid. Therefore, if you are going to go full range, I recommend building up over the years and not rushing the chase. Short range is less than anatomically available distance, so make sure you don't confuse full-range options that are usually dumbbell- or plate-loaded.
Very Heavy, Minimal Range
An athlete using five reps or less and replacing a bilateral or split squat should only be elevated a few centimeters. The elevation could be eliminated entirely if they are able to descend without having their non-support leg interfere with achieving their anatomically available range. I have only used very heavy reverse lunges into the 315-pound range for strong athletes. Anything more doesn't seem worth the risk, and I don't do heavy one rep max split squats due to the risks of asymmetrical demands. The short elevation tends to cause athletes to finish the lift more aggressively, for some reason, likely because they know they have to complete the extension to get vertical.


There is no ideal way to program the reverse and deficit reverse lunges, so trust your instincts and keep good record-keeping. The main recommendation I have is not to force the exercise to fit a problem that other options may solve better. Adding or subtracting the movement throughout the year is still an art even in the science age. If you have a good plan and can see progress from year to year with your athletes, it's likely the programming works. Let it dictate how it creates value in your situation.
The main recommendation I have is not to force the deficit reverse lunge to fit a problem that other options may solve better, says @spikesonly.
Click To Tweet
Make the Most of Deficit Reverse Lunges
If you add the deficit reverse lunge exercise into your program for a short phase and it makes a difference, I'll be happy. I have used the reverse lunge for years, but adding a prescribed deficit on height, rather than an educated guess, has made a worthwhile impact. Feel free to manipulate the tempo of the movement, loading schemes, and sequence with placement of the exercise to complement what you are doing in your program.
I am thrilled that we are seeing more refinement to the exercise and appreciate coaches pushing the limits of the movement. If you work with athletes and want to improve their lower body function, you must consider the deficit reverse lunge as one of those essential single leg exercises.
Since you're here…
…we have a small favor to ask. More people are reading SimpliFaster than ever, and each week we bring you compelling content from coaches, sport scientists, and physiotherapists who are devoted to building better athletes. Please take a moment to share the articles on social media, engage the authors with questions and comments below, and link to articles when appropriate if you have a blog or participate on forums of related topics. — SF