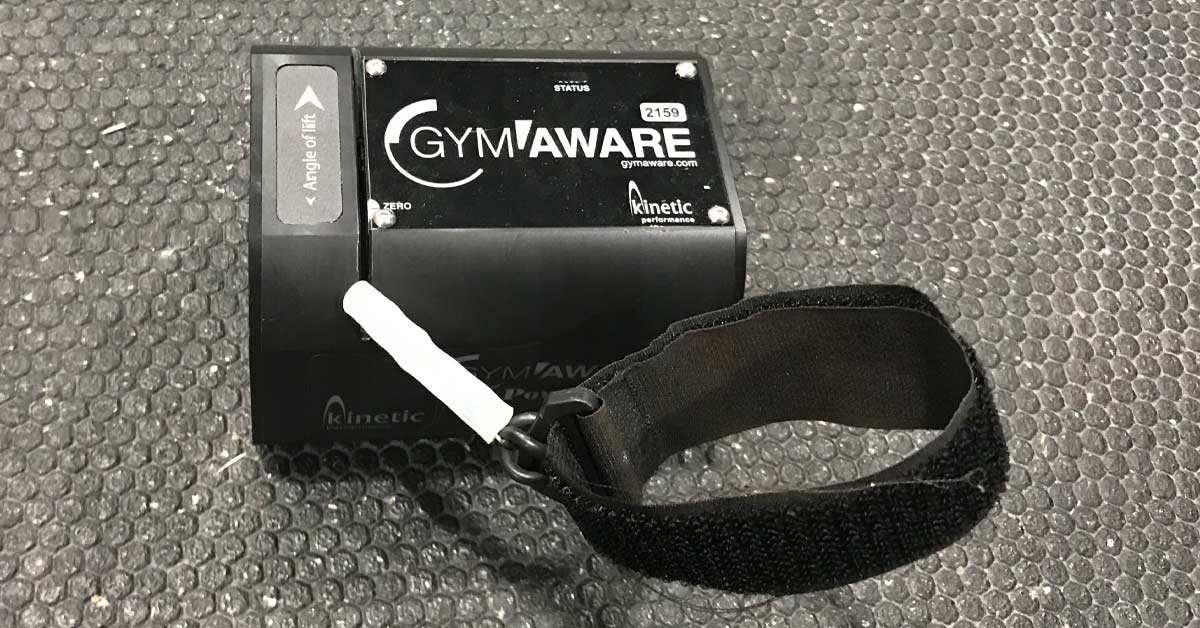 Currently, barbell and weight room tracking devices are one of the largest sports technology markets. First coined by Bryan Mann, velocity-based training (VBT) has evolved to weight room monitoring, since determining bar speed is just a fraction of what the available technology can do. Still, the majority of coaches want tools that can effectively measure the speed of the barbell, as well as provide other measurements such as motion and displacement.
Barbell and weight room tracking devices are currently one of the largest sports technology markets.
Click To Tweet
Companies are making efforts to calculate barbell path and system performance with the body and barbell, and even measure for rate of force. Most of the legacy systems that use tether systems are fading in popularity, but new companies see the timeless value of direct measurements because microsensors are very difficult to work with. In addition to the hardware advancements over the last decade, the software has been quickly improving. Partnerships with athlete management systems (AMS), subscription-style added-value programming tools, and even connectivity to flywheel systems are all now common in the space.
The Weight Room Tracking Market as of 2021
We have removed a few companies from this list because they no longer support or sell equipment, and we didn't include a few systems because they are not agnostic to barbells and are for internal equipment such as flywheel and mechanized resistance. All of the systems listed are available as of 2021, but many of them may no longer be available for sale in time.
Below is a breakdown of buyer KPIs:

A few notes to help you navigate the table.
AMS integration could be direct or indirect. Direct integration means the systems will automatically upload workout data into the AMS. Indirect integration entails exporting the data into a .csv file and manually uploading it into the AMS.
For most devices, the free limited license grants access to store workout data for one or two athletes. Those seeking advanced analysis and/or to store data for multiple athletes will need the paid license.
Enode doesn't technically have a web portal, but the company is currently building desktop apps for Apple and Windows computers, eliminating the need for a web portal.
Validity is reported variably. Some units have been found valid by some researchers and invalid by others. Buyers are encouraged to take caution and seek consistently validated units.
Limitations and Potential with Current Technology
Barbell tracking is motion detection, not a direct kinetic measure of force and power. Thus, the coach must be aware that user error strongly determines the effect of training. Most of the weight training devices and systems directly measure the barbell, meaning they are physically connected to the barbell. Indirect measurements from the wrist or camera system require specific protocols and setups to effectively measure barbell performance. Some products can estimate performance with machines and other strength implements outside of the barbell, but development time and validation make less-common exercises questionable. We strongly advise you that exercises with weight training devices must be validated, otherwise it's unknown if all the motions are appropriate.
Exercises with equipment must be validated, otherwise you don't know if all motions are appropriate.
Click To Tweet
All weight training devices have limitations and strengths to barbell and weight room monitoring. For example, a linear position transducer is very effective at measuring distance, as the tether-based system is designed to handle changes in displacement very well. Accelerometers tend to do poorly in estimating distance though, as they are indirect calculations that are imperfect. In addition to displacement, linear encoders are great for slow motions since they are effective for continuous sampling without struggle. Conversely, accelerometers are useful for detecting rates of change in speed, so they are excellent for explosive motions.
Scientific Validation of Devices and Methods
Three primary driving needs shape the market: the reliability and validity of the device, the effectiveness of the acute training that is dependent on the technology, and chronic adaptation of the training method. Without having the device fully validated, it's highly unlikely that training techniques in the short and long runs will be effective. Analog estimates of training are useful for athlete awareness, but without objective feedback, those techniques are extremely crude and limited.
Most of the equipment available has been validated on a few exercises—usually the bench press and squat exercise. Some systems have been validated for jump squats and even jump testing, but no system has been validated for every exercise, so we must trust in the brand and constant internal experimentation for now. Most new products are algorithm-driven, as camera- and accelerometer-based measures are the primary method of measurement. Velocity-based training ideas, such as estimations of 1 repetition maximum, fatigue detection, and reinforcement of methodology such as cluster training, all conflict in the research. Therefore, it's important that the studies that do demonstrate validity are replicated carefully, as each study will likely have nuances that explain the lack of cohesion between studies.
Outside of scientific reliability, the manageability of the product is important.
Click To Tweet
To be useful with immediate and real-time feedback, the device should be reliable enough that the smallest worthwhile change is displayed with enough accuracy to guide athletes properly. Outside of scientific reliability, the manageability of the product is important, as products often fail to be effective in applied settings due to poor design and limitations with natural environments.
Emerging Methods of Barbell Tracking
As mentioned earlier, progress, from partial representation of exercise repetitions to comprehensive measurements, is necessary to evolve the market. A few companies are claiming barbell path or the trajectory of the motion in time and space, but the accuracy and precision of those measurements are unknown in the research right now. The most common approach to measuring barbell path is via camera systems, but due to the difficulty of capturing a proper measurement in real time, only video apps and three hardware companies claim the capability.
Besides Olympic lifts, there is increasing attention on other areas of the lift outside the concentric velocity and calculated force and power. Eccentric velocity readings, isometric detection, range of motion summaries, and even explosive measures of performance are all currently available. Due to the market adoption of velocity measures and thresholds, most barbell tracking has failed to evolve as quickly as the research.
As mentioned earlier, a focus on how the body and barbell interact with one another is promising, as the real need of strength and conditioning for sport is not the actual performance of the barbell, but the interaction of the athlete's body, the load, the barbell motion, and time and space. In the future, expect more detail of existing exercises and more movement representation in both the elite and consumer markets.
Hardware Options and Methods of Measurement
Motion can be measured with inertial measurement units (IMUs), linear encoders, and camera systems. Simple high-speed cameras with smart devices are able to manually estimate simple measures and even estimate distance, but due to their limitations, they are typically used for testing or experimentation. The power of the smartphone has disrupted the market, forcing companies to either innovate or work on other added-value features such as strength and conditioning software integration or other metrics outside of barbell performance.
Each hardware option has pros and cons that you should carefully consider, as they will affect the measurements and workflow of team use and even individual use. For example, a wearable system on the wrist will always be limited to the strict demands of exercise motion adherence. If measuring the barbell directly, the idiosyncratic behaviors of weightlifting style could be affected as well, but only by accelerometer systems with algorithms that are overly sensitive and not robust enough for typical athlete behavior.
Linear encoders are excellent for barbell velocity, as most movements are under 3 meters per second—a threshold where an adequate sampling rate can be useful for simple feedback and accurate displacement at slower velocities. The challenge with linear encoders is obviously the issue of dropping weights and having the device become permanently damaged. Some exercise modifications or mounting options are required to keep both the encoder and tether safe from damage. Due to the hardware having accuracy, there is far less development than with camera- and accelerometer-based products.
Accelerometers and other sensors on IMU boards are very useful for barbell tracking and other measurements in sports performance. The issue is detection of the motion, and exercise completeness is an obvious obstacle. Accelerometers have been popular because their price point makes earlier encoder systems expensive, but the costs of developing algorithms and wearable hardware have yet to cause earlier systems to struggle.
The sale of camera systems, whether traditional video or motion capture solutions, is growing. Entry-level solutions like apps have saturated the smartphone market, and several options with enterprise professional systems are available. The expectations are that the new products will consist of camera and accelerometer systems, while legacy systems will continue to be sold and supported.
Software and Third-Party Integration
The user experience and/or workflow of the product determines much of the success during training. When researchers test athletes, they aren't as concerned with time constraints and other coaching needs, as they focus on the integrity of the data and how the system performs scientifically. With group and team environments, coaches have additional requirements outside of the accuracy and validity of the product.
A tradeoff exists between data quality and how team-friendly the system is. In addition to simple feedback demands, another responsibility of the software might be pushing workouts to athletes in advance, as enterprise workouts that are preloaded radically improve the workflow. Nearly all of the systems use a reactive approach to training, meaning the athlete is expected to select exercises and record weights. Therefore, efficient apps are instrumental to accomplishing more in the weight room.
A tradeoff exists between data quality and how team-friendly the system is.
Click To Tweet
Several athlete management systems have partnered with hardware vendors, and some turnkey solutions have made their data available for export and API integration. Cloud options that provide a simple or extensive web application are the new normal, as data synchronization, storage, and integration are expected to be a starting point versus an option now that the market has matured. Nearly every new company that has emerged in the last few years provides a web application, proving that strength and conditioning software needs to either partner or provide a way to reduce the athlete's burden of inputting the data.
Market Moves
Since 2018, companies producing VBT products have seen both birth and death. The market for velocity-based training devices is evolving quickly to meet the demands for instrument accuracy and validity, team versus individual and small group usage, and a user-friendly interface. In the face of ease of use and perceived advancement, two new VBT companies are using linear encoder technology instead of wireless options.
Linear encoders are considered the gold standard of measurement accuracy, and these products indeed are marketed as highly accurate and valid measures. Nonetheless, the majority of players are wireless, and we can expect the future to bring growth in the wireless VBT market. Further, as practitioners seek to sharpen the delivered stimuli and achieved adaptation, we can expect the VBT landscape to continue to grow in size, user support, competition, and additional features, such as automatic exercise detection, lift phase duration, and other options that streamline processes.
Enode Pro
The German-based Enode Pro is a relatively new company, yet it became a global competitor after a successful crowdfunding campaign in 2018. Its unit is a wireless accelerometer that is small, sleek, and easy to use. The company aims to optimize training results by providing training guidance based on daily readiness which allows for full autoregulation of training, but the device can also be used to simply track bar velocity and path without AI-recommended loads and volumes, if the user wishes. Individual and team usage are both supported, and the AMS is user friendly and easily implemented in team settings. One of the most affordable velocity-based training devices on the market, the company seems to only have upside from here.
GymAware
Widely considered the gold standard, GymAware has nearly 20 years of continual development of hardware, software, and proprietary algorithms, resulting in extensive feature sets, measurement accuracy, and user friendliness. Crucially, the system offers angle correction, meaning the cord does not have to be placed directly under the barbell to generate accurate measurements. GymAware offers two apps: one designed for team use and one for individual trainer use, covering both team and private sector settings. The GymAware Cloud enables users to create reports, gather extended data such as barbell path, and even do more analysis if needed. Additionally, recognizing a need for a more affordable and wireless option, the folks at GymAware developed a unique VBT technology: FLEX.
FLEX
FLEX, a GymAware product, is the only VBT technology of its kind. The sensor attaches to the end of the barbell (like a clip) and uses a laser reflected from a floor mat to directly and continuously measure bar position, making it the only laser-based VBT system on the market. It is, essentially, a wireless linear positional transducer. FLEX is significantly more affordable than a GymAware unit, and although it is compatible with the GymAware Teams app, it seems to be intended for use with small groups/individuals. FLEX is compatible with TeamBuildr, Bridge Athletic, CoachMePlus, and AthleteMonitoring via the GymAware bridging software and API, making it a good solution for athletes participating in distance coaching programs.
Move Factor X
Colorado-based Assess2Perform launched Move Factor X in September 2021. Move Factor X replaces Bar Sensei, which was also an Assess2Perform product. The system has already been validated in one study and appears to have a sleek, user-friendly app designed for immediate feedback while training. Purchase of the sensor provides entry-level access to the fully integrated team reporting package, and the sensor is powered by a coin cell battery, meaning you trade the hassle of charging the unit for simply swapping out a battery when power is low. Assess2Perform also invented the Ballistic Ball, a new version of which is available in the fall of 2021, which measures velocity and power, opening the door to new types of assessments and athlete monitoring.
TENDO
Most coaches in the U.S. will be familiar with TENDO systems, as the popularity of their device permeated the strength and conditioning world in the early 2000s. Based out of the Slovak Republic, TENDO has faced criticism and waned in popularity because, in the face of new competitors with updated features and accessibility, TENDO did not update their system for several years. However, since 2018 they have invested in upgrades and are now more competitive in the marketplace. They unveiled a new computer analysis software, the TENDO Power Analyser, allowing coaches to save and analyze data on the computer as opposed to simply viewing the bar speed of each rep.
In addition, there is now a leaderboard, a database that can house multiples athletes, and the ability to generate performance reports. They've also addressed a slight inconvenience that other VBT technologies have not by releasing the Button ID, a keychain-like device that athletes swipe near the system to indicate that the ensuing data should be saved under their profile. Most VBT systems require a few clicks on an iPhone or tablet, which isn't a deal breaker, but the Button ID is a convenient solution. Additionally, a jump mat accessory is available, and there are no annual fees for this system.
Beast
Beast is an Italian company that supports a wearable system incorporating wireless convenience with conventional metrics, including measures such as explosiveness. A web portal and its ability to measure explosive movement are valuable parts of the Beast Sensor solution. At first, the Beast system measured the bar directly, then they went to wearable technology while their competitor Push went to the barbell directly. Beast is popular with some individuals, but they don't have the following in elite sport to leverage like other companies, so we don't know what the future holds for them. The Sensor provides a very rich UX and is available internationally.
RepOne
Based out of NYC, RepOne launched less than three years ago and seeks to reintroduce linear encoder technology to the market. Their software is focused on training automation, allowing coaches to guide athletes through individualized workouts rather than simply collect data. There have been some availability issues, but this relatively new technology seems to be gaining traction, as it is currently in use with a handful of professional teams. They continue to release new features regarding training automation, such as the program builder, giving the amateur athlete the same training experience as the professional. The system comes with its own AMS, StrengthOS.
MuscleLab
Ergotest is one of the founders of velocity-based training equipment, as they invented solutions decades before many of the other players entered the space. Based in Norway, the company designs and manufactures all of their systems.The systems are reliable, and many of the validation studies show the data is interchangeable with more expensive options.
Perch
Founded in 2016 by MIT graduates, Perch is one of two motion capture systems on the market. The company's breakthrough came in 2019 when they installed systems at LSU. Since then, they've grown to include several SEC and professional sports teams, as well as high school and private sports performance facilities. The camera is compact and portable, and it mounts easily to most rack systems. The cloud-based AMS allows for easy monitoring of athlete progress and performance. Overall, the company and its reach have grown in the last few years, and it appears it will continue to do so.
EliteForm
The Nebraska-based EliteForm is the other motion capture system on the market. The company continues to grow and add features to meet user needs. Notably, the system provides eccentric and isometric tracking (including countdown timers), velocity and power targets for visual feedback, the creation of competition groups so athletes of similar abilities push each other during workouts, and even the ability to administer wellness questionnaires that coaches can build and administer via the tablet app. The camera is likely best used in a permanent fashion, as it is not as portable as the Perch camera. Nonetheless, the features EliteForm offers make it a unique and competitive VBT system.
Vitruve
Formerly Speed4Lifts, Vitruve is the latest linear encoder to hit the market. Based out of Spain, the company gives a nod to DaVinci's Vitruvian man in the name. Vitruve is a compact, battery-powered unit that is easily portable and syncs with any tablet (although iOS products are recommended). The app is intuitive for both coach and athlete. The AMS provides estimates of 1RM and performance records, and it allows for data exportation for advanced analysis. This system seems to be marketed toward European users but appears a viable option for users in other parts of the world as well.
MyLift
The MyLift app is a practical option for those seeking to experiment with VBT without investing much capital. The tradeoff is that it requires significantly more time to obtain metrics, as you have to film and manually tap the screen when the rep begins and ends. Although feedback is not immediate and the app does not boast many of the advanced features other technologies have, it does yield velocity metrics at a very low cost.
Recommendations
The most important part of strength and conditioning is knowing if the training program elicits favorable adaptations toward performance and injury reduction KPIs. Barbell tracking is only a small part of that equation; thus, coaches must budget for all needs of sports training. Overall, most organizations will want to invest in weight room technology and weight training devices to collect data and deploy training programs.
We recommend coaches feel confident in the integrity and consistency of data collected by VBT technologies before investing in them. Higher levels of accuracy and precision enable a coach to program with more sophistication and confidence. In addition to the initial purchase, it is important to consider the entire cost of servicing the equipment, replacing hardware, annual subscriptions, and training.
The Enode Pro is a great option for individual or small group use in the private sector.The real power of this system may be in the team setting in high schools. Enode's autoregulation capacity based on daily readiness makes it a smooth and fluid way to train even less experienced athletes. The system is mobile, takes less than one minute to set up, has been consistently validated in literature, and is the least expensive VBT sensor on the market, in terms of both unit price and paid subscription. Enode Pro has the capability to store athlete data, similar to GymAware products, but this unit has a significantly smaller footprint in the weight room, as it straps directly to the barbell and requires no other space.
GymAware is the gold standard in nearly every category for VBT technology. The company has circa 20 years of continual development of hardware, software, and proprietary algorithms, and their device likely provides the most accurate and precise data of all technologies on the market. The online platform seamlessly and directly integrates with almost every AMS. The web portal is sleek and allows for data export and advanced analysis.
Accordingly, GymAware is the highest priced on the market. For college and professional sports teams that have the budget to prioritize training, athlete monitoring, coach's time, and data integrity, GymAware is our recommendation.
FLEX—a GymAware product—brings the benefits of GymAware's app, web portal, and cloud, but at a fraction of the cost. Further, in comparison to the sturdy and immobile GymAware, FLEX is portable and less cumbersome. High schools and private training facilities seeking the back-end processing and data storage advantages of GymAware, but without the budget of professional and college sports, will find a solution in FLEX.
TENDO, after a decade of not making any changes to their system and being left behind by newer technologies, has modernized in the last few years. Their software allows for athlete tracking, and although it is at an extra expense on top of the VBT unit itself, there are no annual fees whatsoever. Thus, owners of private sector businesses may be enticed by the one-time purchase power TENDO offers.
Since you're here…
…we have a small favor to ask. More people are reading SimpliFaster than ever, and each week we bring you compelling content from coaches, sport scientists, and physiotherapists who are devoted to building better athletes. Please take a moment to share the articles on social media, engage the authors with questions and comments below, and link to articles when appropriate if you have a blog or participate on forums of related topics. — SF