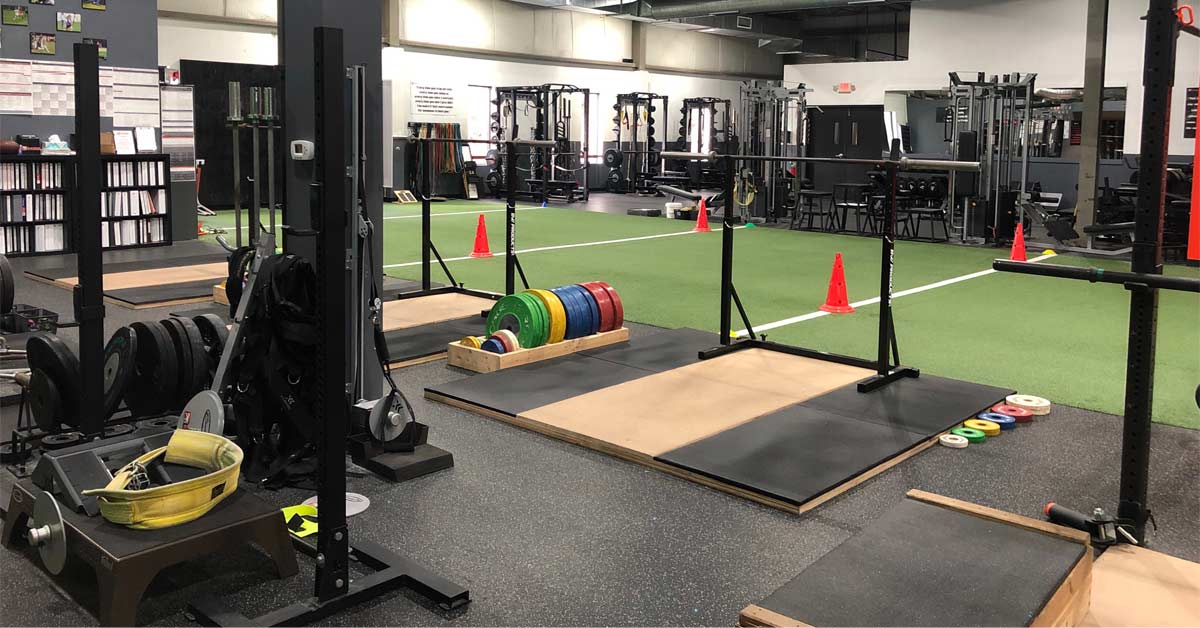 Freelap Friday Five with Sean Smith
Sean Smith is co-owner of Exceed Sports Performance & Fitness based in Westborough, Massachusetts. Smith started his training and coaching career as a young athlete under the mentorship of some of the most respected coaches in the industry, giving him excellent access to experience and knowledge. He specializes in speed and performance training. Smith has 18 years of experience working with elite high school, college, and professional athletes.
Freelap USA: Over the last few years, Central Massachusetts has produced a lot of NFL athletes, and you obviously have had a hand in this. New England is more known for hockey than American football—what are you doing better with long-term athletic development than most facilities in your state?
Sean Smith: I actually think it's a little more complex than just the LTAD stuff we do. Prior to opening Exceed Sports Performance & Fitness with my business partner, Shane Davenport, I worked for a sports agency in Evanston, Illinois. During that time, I got to know the ins and outs from many players, agents, scouts, and coaches. I know what it takes and how to assess talent that can play at the NFL level.
In addition, Shane and I both played college football and have worked with hundreds of collegiate and professional players over the last 15 or so years. At Exceed, we get to use our knowledge of football and my experience in sports management to set up our college football clients to continue their careers post-college.
When it comes to the actual X's and O's, we spend a considerable amount of time teaching the skills of acceleration, top end speed, deceleration, reacceleration, and jump training. We place a premium on moving well and emphasize track and field mechanics so much that it becomes second nature for our guys. That is ultimately the goal—have them moving better subconsciously—and that's where special things happen. If it looks right, it flies right.
Ultimately, the goal is to have athletes move better subconsciously—and that's where special things happen. If it looks right, it flies right, says @SPSmith11.
Click To Tweet
This is not something we start working on with our pro guys, however. We apply many of the same principles and methods, though not always the same dosage, with our youth athletes and carry that throughout their competitive careers. Technique and positioning are simply too important to miss.
Lastly, our guys have to meet the prereqs, so to speak. We know that the NFL is a height, weight, and speed game. You have to have a combination of these attributes to excel or be an extreme outlier—which is typically short and FAST! Our focus is on speed and power. We get our athletes to sprint faster and jump higher.
Freelap USA: The private sector is growing, but sometimes the expense is hard on some families. How do you keep your prices affordable but still give the customer a great training experience?
Sean Smith: Shane and I are better people than we are businessmen. We prioritize our training model over our business model, and that's geared toward the athlete getting results.
We try our best to offer affordable pricing, knowing that so many gyms overcharge. We were both raised in blue-collar families and try to keep that in mind with our pricing structure. To be honest, we probably undervalue ourselves in our prices, but we do this because we believe good things happen to good people, and with hard work and great results for our athletes/clients, we will see the return in the long run.
One of the ways we do this is by offering drastically reduced rates for those who sign up for 12-month contracts. We see it as a commitment to the gym and results, so it's reflected in our pricing. Although we still have a percentage of clients who want an 8–12 week "quick fix," that definitely isn't our business model. We typically see some clients on a consistent basis for multiple years in a row. Forty-eight sessions in three months is not comparable to 300–400 training sessions over three years.
Freelap USA: Technology is now part of training, and you have a lot of instrumentation for testing. Tell me how you get athletes to use your gym so effectively on their own while still ensuring they adhere to the protocols.
Sean Smith: We have a blast working with technology. We have a lot of tools to work with at this point. Not all get the same frequency or miles, but they all have unique benefits and purposes for us. The Ergotest contact grid, Vertec, Hawkin Dynamics force plates, and Just Jump mats are all in a constant rotation with our athletes.
Our youth and adult clients even take some of them for a spin here and there. Who doesn't like testing and seeing tangible results? Even my 7-year-old daughter hops on the force plates whenever we have a new client unsure of the process. Unfortunately for some of the new athletes, she's beating them already.
We get our clients tracking jump numbers right away, either on the jump mat or force plates to start. We build jump testing and tracking right into everyone's programs. After 2–3 phases, it's just what they know.
We get our clients tracking jump numbers right away, either on the jump mat or force plates to start. Who doesn't like testing and seeing tangible results, asks @SPSmith11.
Click To Tweet
With certain populations, we test and retest field movements as well. Most athletes have short sprints and change of direction tests timed using our laser and timing systems. Some systems work better for specific tests and even populations. Baseball, for example, tests 60's (60-yard dash) in a two-point stance, and they are better tested with a different tool than our football/track guys who put their hand on the ground, but they all need numbers.
Once they have trained for a year or two or are roughly of college age, we bring some of the velocity-based training equipment into the weight room. Our athletes love using the GymAware for the live feedback and multiple data sets to look at. Not only for velocity, but many appreciate a visual reminder of depth and bar path, especially the less kinesthetically aware athletes.
The hardest part about having the testing tools is sometimes the clients just want to test. We have to remind them that they have to train in order to improve testing results.
Freelap USA: You have seen a lot of athletes come back from the league (NFL) broken down and needing a lot of work with conventional strength training. With your testing data, what do you see as the biggest culprit with athletes who are left on their own with training options?
Sean Smith: The force plates don't lie. Our pro guys tend to come back with less power. The worst we've seen is a 13-centimeter drop in a one-year span.
The sad truth is that professional (and college) strength coaches have a watchful eye on them and it's my opinion that these coaches' first priority is to avoid risk, even at the expense of results. The obvious issue with that line of thinking is the players don't get better and many get worse. If a coach got 50% of his guys 5% faster and two got hurt, he'd still have a chance of getting fired.
I think these guys just need a full-year focus for training, as opposed to just a training camp and an in-season program, which most get from their teams. Ideally, our guys would be able to train throughout the season in some capacity. Flywheel, jump, and/or Olympic variations just need to be touched semi-frequently to maintain some of the qualities that make these guys special and that got them to the NFL in the first place.
Freelap USA: As you grow, you see a lot of interns come and go. What advice can you give a young coach who wants to open up their own facility before they take the plunge? What do you see necessary before they start a company?
Sean Smith: I would say get ready to give. As a coach, you come last. We give our time, focus, energy, and knowledge to our clients. Most of us choose to get into this line of work because we enjoy training and the positive effects that come with it. The hardest part is adjusting to the time it takes to run and manage the gym while also coaching.
It's important to have an established network of sports coaches in the area you choose to open your gym and a recognizable name, says @SPSmith11.
Click To Tweet
From experience, we can tell you that having an established network of sports coaches in the area you choose to open your gym and a recognizable name are very important. We opened in an area with almost no connections and no ties to the community. It took a long time to get to where we are. During that time, it was hard to focus on growing the business and growing our skill sets simultaneously. If you constantly sell, how do you get better at coaching, and vice versa?
At some point, the business works, or it doesn't. You get to the point where your coaching is what brings in the business and then the fun begins. If in year 5 you are still constantly "selling," are you any good at coaching? Be the best coach you can be, get results, be active in your local community, and strive to make each and every one of your clients better, and you'll have success.
Since you're here…
…we have a small favor to ask. More people are reading SimpliFaster than ever, and each week we bring you compelling content from coaches, sport scientists, and physiotherapists who are devoted to building better athletes. Please take a moment to share the articles on social media, engage the authors with questions and comments below, and link to articles when appropriate if you have a blog or participate on forums of related topics. — SF