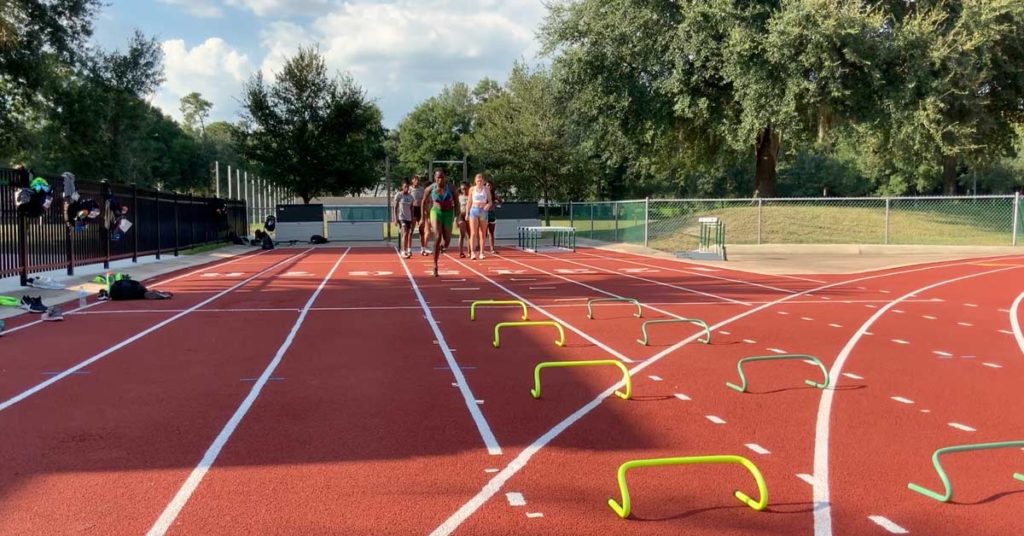 No topic is getting more attention in the sprinting world than wicket runs, or stick or tape drills. Unless you've been hiding under a rock for the last 10 years, you've likely seen the popular trend of athletes using banana hurdles and ladders to work on running mechanics. It seems coaches are using it more than ever, but before you start building mini-hurdles from PVC pipes or marking your track, it's important to read this article to help you decide if wickets are the right fit for your program.
Before you start building mini-hurdles from PVC pipes or marking your track, you need to decide if wickets are the right fit for your program, says @spikesonly.
Click To Tweet
I firmly believe that wickets can help any program if done right, but not all programs are good candidates for the methodology. It's not that wickets don't work well with all athletes, it's just that you really need to do your homework on the details that make the drill work. This article is designed to encourage coaches to try them and know what they can expect to see over time.
In addition to the adoption, my other point is to ensure that those who are not using the modality don't feel that they are doing their athletes a disservice. Usually with a topic, I am in the middle and see the pros and cons, but if you are going to use wicket runs, I encourage you to be all-in and not half-hearted.
Why No History or Background on the Drill?
Anyone who has read my blog posts has seen my pattern of presenting a topic, explaining the history, and doing some scientific research. Most of the posts—nearly all of them—also share workouts and exercises so coaches can apply something practical later. This piece is an exception, as I don't want to get into a diatribe of who came up with what first.
I know that the process of running over marked spaces on a track is more than a century old, but it's more about the evolution of the method than what everyone did in the past. Dozens of coaches have used tape, cones, mini-hurdles, and even painted lines in the last few decades.

Video 1. Wickets are deceptive because anyone can run over them, but the goal is to improve the striking qualities not just run upright. Simple form runs from the 1980s can teach front-side mechanics and posture, so use wicket runs to enhance force production, not high knee recovery.
I reviewed some pioneers earlier with my general article on ladders and recommend you read that information. For the purpose of brevity, this article covers high speed or maximal velocity development using wickets, or banana hurdles, spaced out for sprinting. Acceleration techniques using the markings on the track are something I don't plan to cover. Finally, it's important that coaches do their homework and have a plan to use wickets with purpose, rather than just trying to be relevant.
I have not been a big user of the drill because I had nobody to show me anything with depth outside of vague recommendations. For 20 years, I have looked at articles from the IAAF and other resources that had diagrams, but I didn't get enough substance from any of those papers to be independent and confident.
What Do Wicket Runs Do, Theoretically?
Instead of a science section, since there is no real competitive investigation on wickets, I will share a few observations. If you were to see someone running wickets, the most obvious summary is that the wickets are stride marks that seem to help with rhythmic technique, and perhaps knee lift. One of the most popular cues in sprinting attempts to improve the recovery of the stride with the phrase "step over high grass," and while that is vivid, we don't know how much it helps. Some athletes who have been cued to strike down decrease their speed and knee height, while others appear crisp and faster after careful analysis.
It's not that cues, drills, or tasks don't work, it's that they are more individualized than training loads, in my opinion. Wickets are just marks on a track, spaced in a way that can elicit a challenge to the athlete if instructed properly. The key word is "instructed," as racing through the strides may backfire with athletes who have poor kinesthetic awareness.
Based on video and testing, I believe the wickets alarm the athlete into conscious effort to either override a motor engram or embrace an area that central pattern generators don't cover.
Click To Tweet
My personal belief, based on video and testing, is that the wickets alarm the athlete into conscious effort to either override a motor engram or embrace an area that central pattern generators don't cover. It's not that wicket runs increase speed or fix mechanics, it's that they encourage posture if they are correctly applied while purposely distracting the athlete (based on discussions with coaches). When sprinting in the open, an athlete can get lost in attempting to relax and apply force. Wicket runs improve the landing strike for some so they can cycle cleaner, but only if they are guided and are coordinated. Athletes who have the ability to dissociate limbs in time and space while traveling fast horizontally can utilize wicket drills.
To me, the marked runs represent one of the few tasks an athlete can negotiate while they are actually moving fast. While most agility ladders are about fast motion and slow displacement, wicket runs are fast displacement and fast motion, close to a full-out sprint. Similar to a long jump approach, athletes can steer very fast without losing a lot of speed, but in this case, quality wicket sprints use an appeasing form to move fast—something most coaches want. 
Video with a high speed or high frame rate has shown that the changes in free sprinting are so minor that, in my mind, they're barely noticeable. It's not that wicket run speed and technique changes are inflated, they are just small enough that you need to accept that it's either milliseconds of change with ground contact time or centimeters of change in range of motion. Wickets are motor skill stimulation, not overhauls in technique for everyone. I do see non-responders and athletes who become stiff and paralyzed, but the primary change is that the athlete tries to run using a tall form in conjunction with quick strikes to the ground with active thigh exchanges.
Due to the granularity of grab velocity of the recovery shank and the radial or angular speed of the knee lift, most research will not be able to spot changes to sprint technique. As force analysis is tough with horizontal sprints, due to force plates being expensive and more suited for vertical jumps, we have seen more athlete variability than clear advantages of marked sprinting on foot strike. I need to see far more runs to know if contact times are in concert with horizontal speed with wicket runs, but for the most part I see a small compromise in horizontal speed for reductions in contact time, similar to hurdlers. This is not a micro-shuffle, as most shuffling decreases knee lift to help ricochet momentum; it's just a movement strategy that seems to enable conscious change in recovery mechanics.
In summary, proper wicket drills help athletes "work the dirt and manage the air" better with super subtle changes to kinematics and kinetics. A visual improvement to running mechanics without significant loss of speed is a worthwhile endeavor for coaches, and in time we would ideally see a constant improvement of athlete speed in elite sports from this popular drill. This is not guaranteed, though, since it's still only one drill in a vast sea of options. I was a doubter for years, as I viewed many practices that looked like dumpster fires, but after seeing a few coaches harness the use of marked sprints over the seasons, I believe that this can be a strong option for many.
Should Other Sports Use Marked Sprints?
This is a tricky question. If some track coaches feel marked sprints are not a good fit, how will team sports make them work? First, we need to remember that the core of development is going to come from the youth levels. Wicket runs are not for elite athletes; they are for kids and youth levels, as long as the program using them is properly educated and skilled. That's easier said than done, as many programs, even elite developmental programs, tend to be a crapshoot at best. In my opinion, a good performance program can easily adopt wicket runs if they do the prerequisite training, and the athletes are constant and follow directions. Blindly adding any form of marked sprints is negligent, not because they're dangerous, but because they don't instruct the exercise properly and could teach the athlete to adopt aberrations that are problematic.
Wicket runs are not for elite athletes; they are for kids and youth levels, as long as the program using them is properly educated and skilled, says @spikesonly.
Click To Tweet
I've mentioned a few times, supported by some bright coaches, the importance of surface, skill, and speed of the exercise. You must time wicket drills along with meaningful spacings from time to time and know how turfs and tracks interact with athlete speed. Coaches don't need to collect times for every repetition, but adding video and recording velocity helps them see a cause and effect. Contact times (using a grid or IMU foot pod) and hip extension/flexion values from video are interesting, but so far, the majority of improvements I have seen with team sports involve posture. Note, though, that some athletes will be preoccupied with the hurdles or marks, so it takes a few weeks for them to embrace the markings and not tighten up or look down.
My experience is that the better athletes know how to use their eyes and trust their bodies rather than look down. Football and other sports that grasp or cradle the ball don't have the demands that soccer and field hockey have with regard to tracking a low-traveling ball. Be cognizant of and vigilant for posture and vision with the drill. It's not that it's impossible with field hockey and soccer, it's just a possible issue with some athletes, even for sports like lacrosse and Gaelic football where the ball is higher than the shoulder or waist.

Video 2. American football has adopted wicket runs, as many of the best strength coaches look to track and field for answers to running faster. The Florida Atlantic University Football program, headed by Joey Guarascio, pushes the envelope with one of the most progressive speed development programs at the collegiate level.
Now comes the obvious question about the resources needed to leverage any type of speed training activity. Team sports usually don't put in the time to work on athletic development at all levels, not just elite levels. To me, the simplest way to make an impact is cut a lot of the fluff activities and make room for simple wicket runs.
You don't need to be perfect with modeling running form, you just need to be better than previous attempts in speed and mechanical advancement. It's not that wickets are magic and will take the burden off coaching, but since it's a task rather than talking, it is more likely to help the vast majority of coaches achieve running form. With so many coaches looking for timed sprints to improve technique via "falling into place," I think wickets are the only drill that can do enough to merit an investment of time. It's very possible to take athletes who use no equipment or special drills to new heights with technique, but coaches who invest in any method, wickets included, can reap technical advancements. 
Take Wicket Runs to the Next Level
The best way to honor a coach is to take what they do and see if you can make it either better or more easily integrated into a program. We all are inspired by the past and by other coaches, and it's important to know what people who came before us have done, good or bad, so we can improve athlete speed. Too many times we spend eternity reinventing the wheel rather than trying to improve it, and wickets are no exception.
The best coaches seem to always know how to make an athlete feel the wicket drill and also how to get better without it, says @spikesonly.
Click To Tweet
Anyone using or not using the wicket drill for speed doesn't need to defend the practice or the lack of action, but you better know what you are doing or how you are addressing speed. I have learned a lot by visiting coaches using the drill, and the best ones seem to always know how to make an athlete feel the exercise and how to get better without the exercise. We need to learn from the past to make it better, so my plea is don't just stand on the shoulders of giants, make sure the next generation is propped on you.
Since you're here…
…we have a small favor to ask. More people are reading SimpliFaster than ever, and each week we bring you compelling content from coaches, sport scientists, and physiotherapists who are devoted to building better athletes. Please take a moment to share the articles on social media, engage the authors with questions and comments below, and link to articles when appropriate if you have a blog or participate on forums of related topics. — SF